Best Power Lift Recliners; Comfy & Luxurious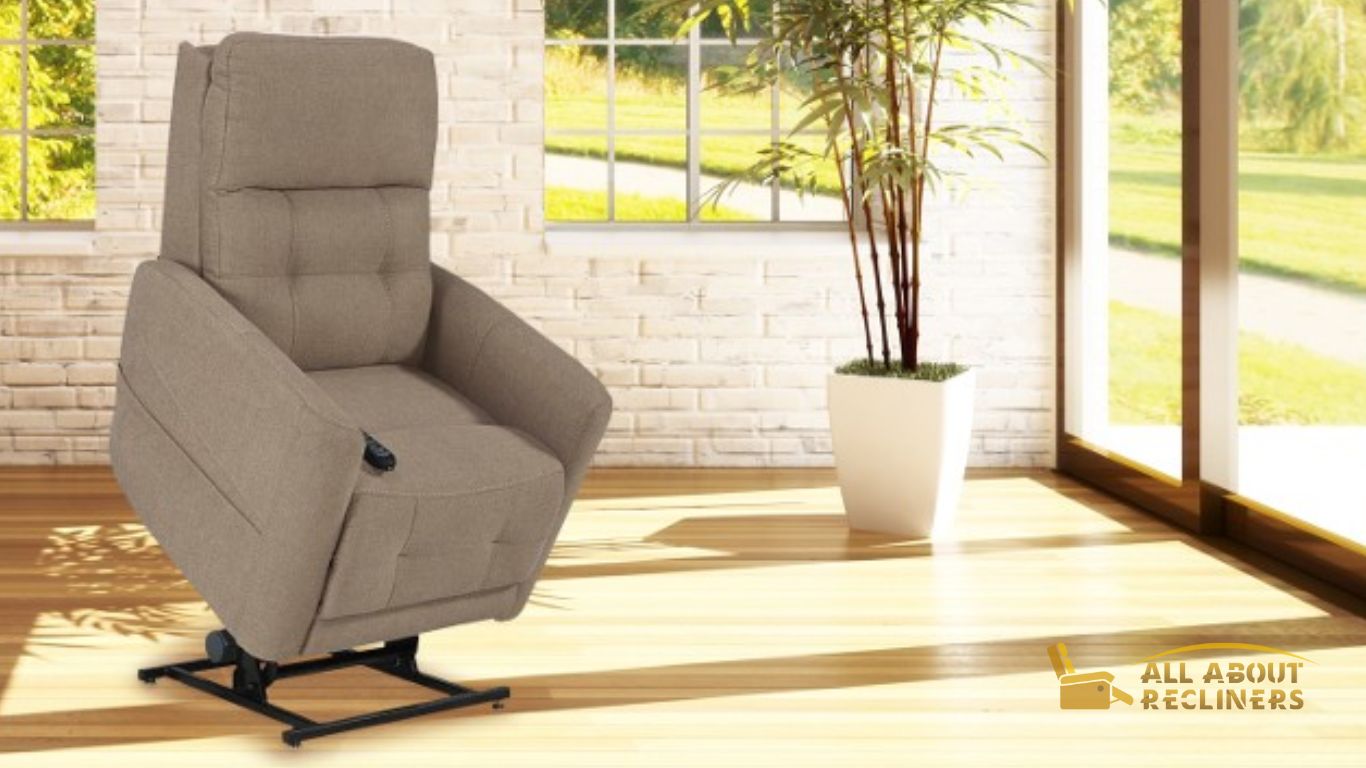 There are people with compromised mobility or illness who need around the clock support from someone else with basic tasks such as getting up from the chair or setting the beds as per their needs. With the busy lifestyle and hundreds of things on the go, it is practically not possible to assist the elderly for longer hours. That is why there are amenities and accessories specifically designed to assist them in day to day life. Power lift features are becoming more and more common on home furniture in that same context. They are designed to make your life easier and more comfortable.
Power lift recliner chairs are ideal for seniors who are unable to stand on their own or those who have low energy levels, especially during the daytime hours when they might not be able to move around freely. The power lift recliners are said to be more comfortable than regular chairs which come with fixed seats and backrests.
The main benefit of power lift recliners is that they lift up and down with remote control. This means that you can use the recliner in the sitting position or stand up with a touch of a button, or just sit there and have a nice nap while laying back in the recliner.
The main highlight of these chairs is that they do not require any physical effort from you or your loved ones for you to get up from them. These types of recliners also come with excellent lumbar support as well as other added amenities such as heat and massage/vibration, swivel, rocking, and gliding features. The other luxurious features of these power lift recliners can be a USB charging port, Bluetooth speakers, storage pockets, cup holders, etc.
Types of Power Lift Recliners
Power lift recliners also known as electric recliners are of two types based on the product specifications and provided features.
Single motor recliner:
This type of recliner is a simple power lift recliner with only one motor. Here there are only three positions possible because different parts of the recliner are operated by a single motor simultaneously. And when you recline the back, the footrest will move up for sure. These recliners sometimes offer heat and massage features too. Single motor power lift recliners are a little less pricey than double motor recliners.
Double Motor Recliner:
Double motor recliners are operated by two motors. In these chairs each part is operated separately thus it can be adjusted in infinite positions. The headrest, backrest, and footrest can be operated separately allowing you to set it in many positions for reading, napping, watching TV, or sleeping. These recliners can be reclined up to 180° and are more expensive than any other kind of reclining chair.
Detailed Reviews of Top 5 Power Lift Recliners
Here I have listed the top 5 power lift recliner chairs in different categories along with all the important features like weight capacity, the number of power motors, recliner size, and material used. I have also shared what I liked about each product and what I did not like. You must look into each detail in these reviews to make a safe purchase.
When you buy through links on our site, we may earn a small affiliate commission at no additional cost to you.
MCombo Small Sized Electric Power Lift Recline 
MCombo Small Sized Electric Power Lift Recliner Chair Sofa with Massage and Heat for Small Elderly People Petite, 3 Positions, 2 Side Pockets, USB Ports, Faux Leather 7409 (Small, Cream White)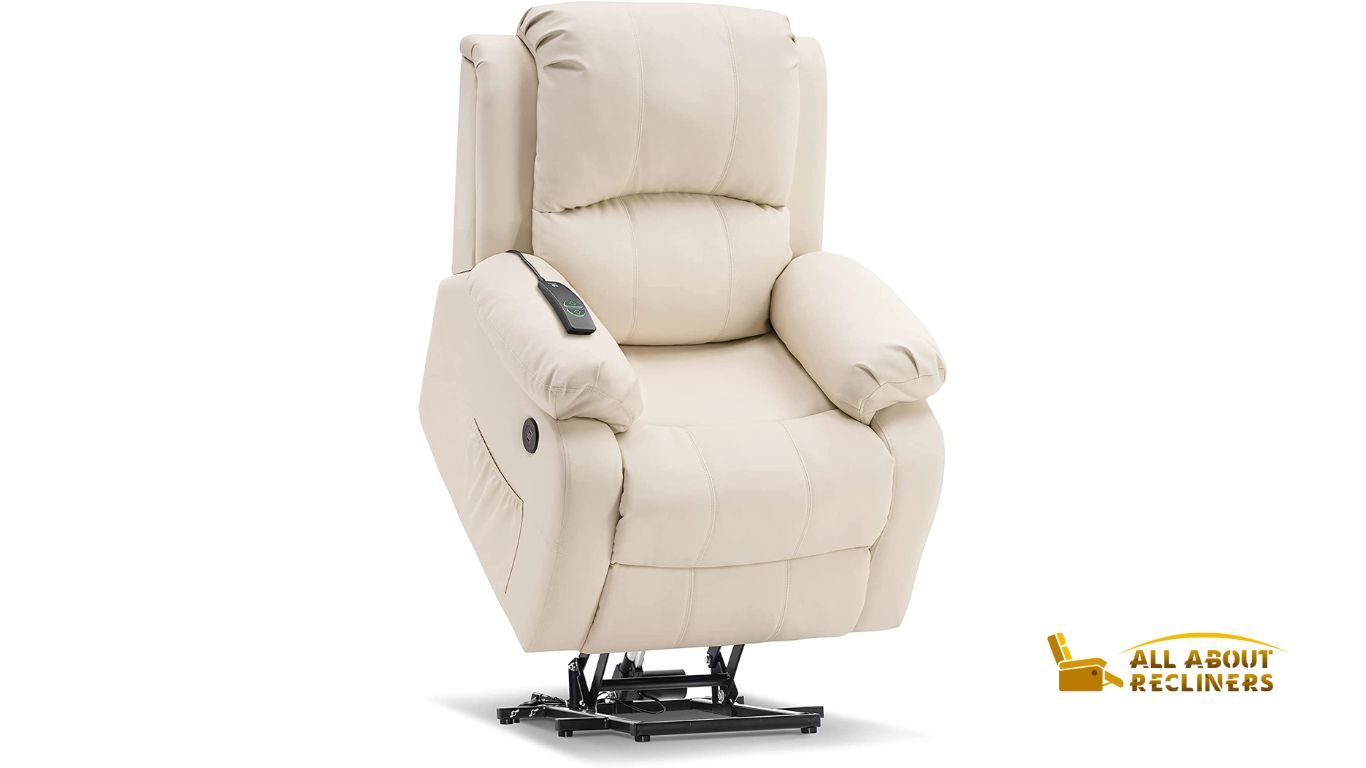 Specifications
| | |
| --- | --- |
| Weight capacity | 320 lbs |
| Number of Motors | Single motor |
| Dimensions | 30″D x 32″W x 42.5″H |
| Material | Faux Leather + Alloy steel frame |
If you are looking for a small power lift recliner for a petite person, MCombo has got the perfect choice for you. With a 140° reclining angle and 18″ seat height, this recliner is the perfect one for a small person with short legs. This is specially designed for people of 4'6″-5'2″ height.
It is well built with all the safety standards in mind. Its frame is sturdy and solid and there is no chance of tipping back from the base while in a fully reclined position.
It has a USB port for mobile phone charging, side storage pockets to store TV remotes or other handy stuff. The leather faux upholstered design looks expensive. The material is also very easy to clean with any microfiber cloth and dishwashing solution. You can simply wipe it down and it's spick and span.
The only downside is the uncomfortable footrest which is quite long for a petite person. Otherwise, this recliner is value for money.
Pros
Made for a short person
Easy to clean
Perfect fit for short people 
Divided design for max comfort
Expert Recommendations:
This is a nice lift chair for small adults. Would be the best purchase for assisted living. Its massage and heat fracture relax the back muscles and provide optimal comfort.
Esright Electric Power Lift Chair Recliner Sofa 
Esright Electric Power Lift Chair Recliner Sofa for Elderly, Heavy Duty & Safety Motion Reclining Mechanism, 2 Side Pockets and Cup Holders, USB Ports, Easy-to-Reach Side Button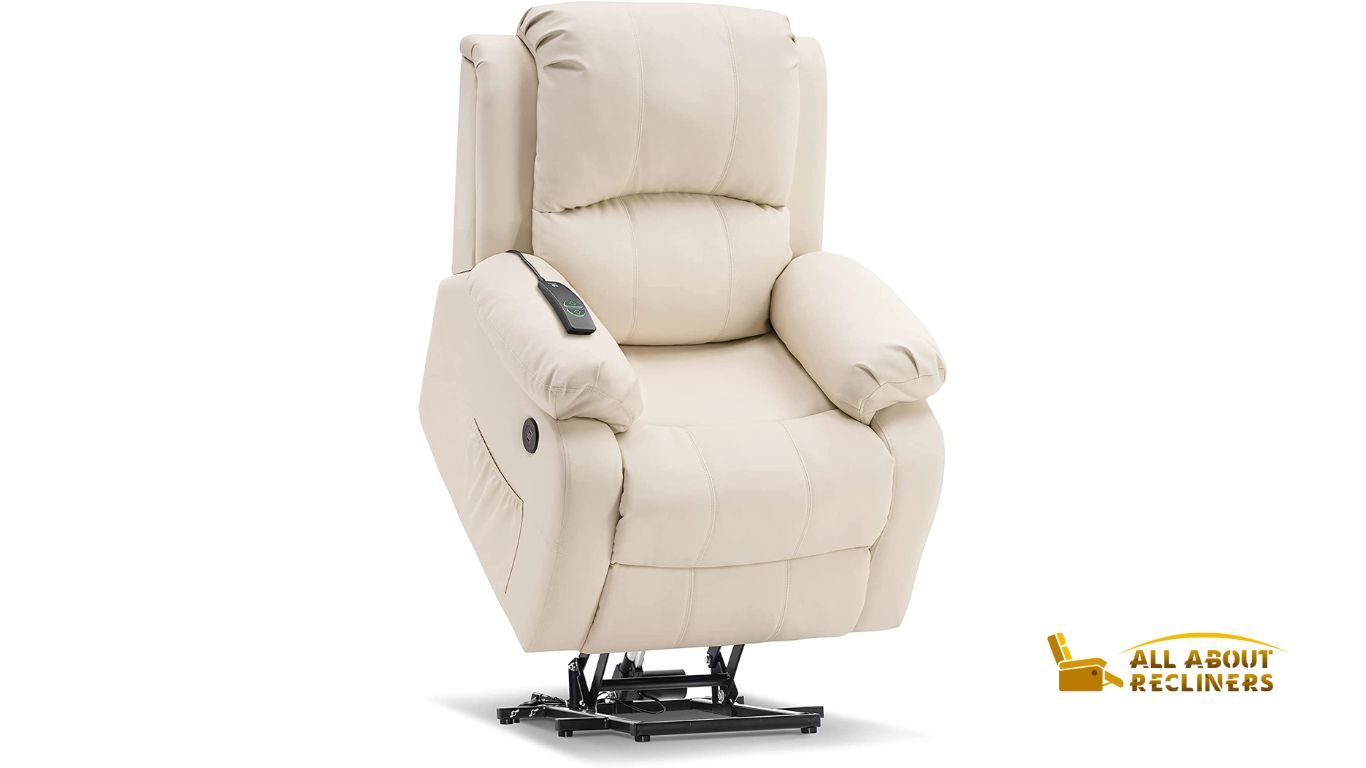 Product Features
| | |
| --- | --- |
| Weight capacity | 330 lbs |
| Number of Motors | Single motor |
| Dimensions | 29 x 33.5 x 43.3 inches |
| Material | Composite Material + Wooden and steel frame |
Want something convenient and affordable to assist you to stand up and sit down with ease? I have tested and reviewed this Esright power lift recliner for all your needs. Whether you want to buy it for a post surgery recovery or for your elderly parent, this can certainly bring waves of ease in life. The chair is very easy to assemble and use.
This single motor recliner offers three positions and its operating mechanism is quiet. It has an anti-back tipping design with a wooden frame and steel base that ensure safety.
With the given dimensions and weight capacity, it is suitable for a standard size person. This would be a lifesaver for anyone with special needs. Its durable and well-made upholstered design makes it the best choice for utmost comfort.
Pros
Affordable
Heat and Massage features
Reclines up to 145° 
Durable and comfortable
Cons
Faulty heat and a massage feature
Expert Recommendations:
I recommend it to anyone in need of a modern lift recliner at an affordable price. The chair is comfortable, looks nice, and has a quiet mechanism.
EVER ADVANCED Power Lift Recliner
EVER ADVANCED Power Lift Recliner Lift Chairs Recliners for Elderly,Infinite-Position Lift Chair to 150 Degree,Heat and Massage by Remote Control,Cup Holders & USB in Bedroom or Living Room,Black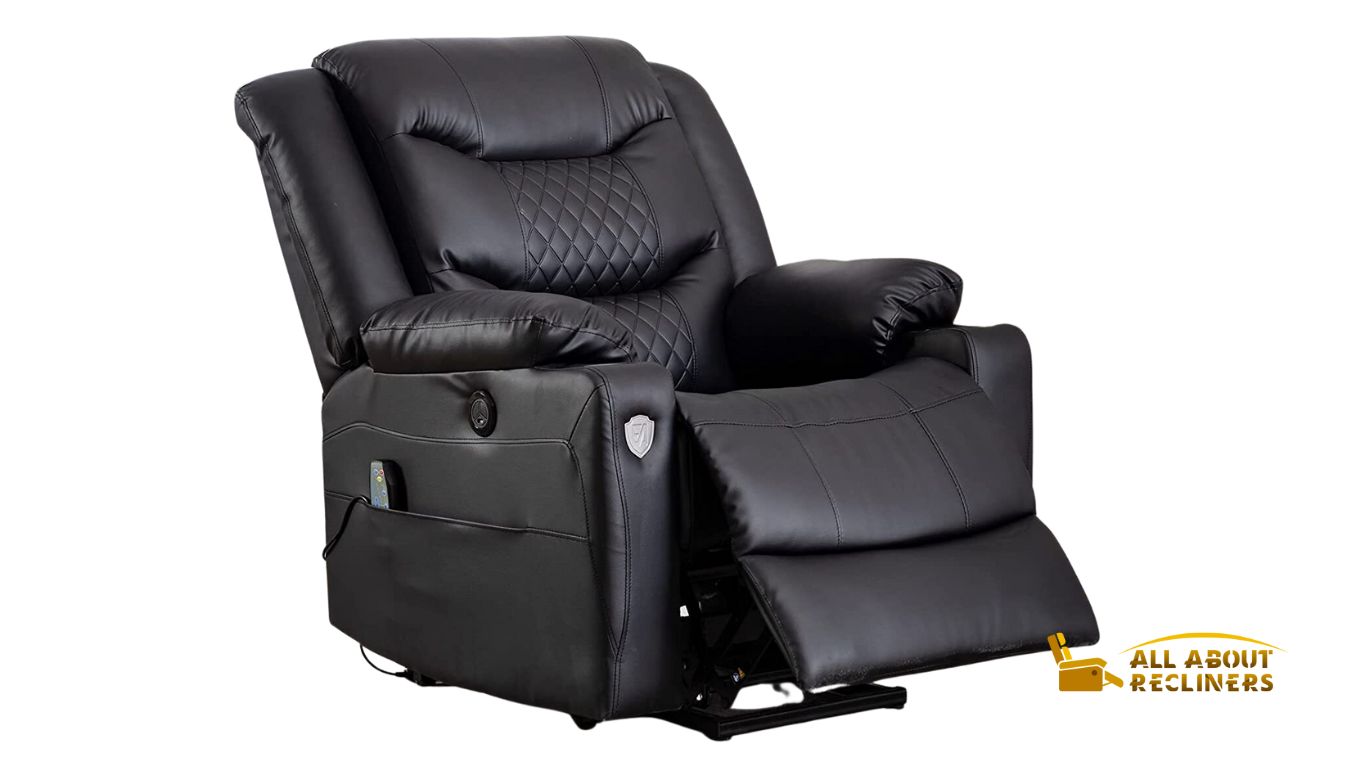 Product Features
| | |
| --- | --- |
| Weight capacity | 330 lbs. |
| Number of Motors | Dual motors |
| Size (Dimensions) | 29.1″D x 34″W x 40.5″H |
| Material | PVC + Hardwood steel frame |
If you wish to have the comfort and feel of the best Lazy Boy power recliner, Ever Advanced has got one for you. This is a lazy boy recliner with dual motors. The reclaimer can be adjusted in infinite positions with its footrest and headrest operated separately.
This is a medium sized recliner with a narrow seat width. That might not fit a big and tall person. It can recline up to 150° and does not provide a flat shape for sleeping or using it like a mattress. The recliners have other luxurious features of a USB charging port and cup holders along with heat and massage/vibrator. The most powerful highlight of this dual-motor recliner is its price and the value it provides for that price.
Pros
Infinite Positions
Inexpensive
Extended footrest
Expert Recommendations:
I recommend this to anyone looking for a dual motor recliner at a cheap price. The recliner has all the trendy features of a power recliner.
DYNOX Small Lift Chair Recliners
DYNOX Small Lift Chair Recliners with Massage and Heat, Dual Motor Power Lift Sofa with Infinite Adjust for Back and Footrest (Fabirc-Beige)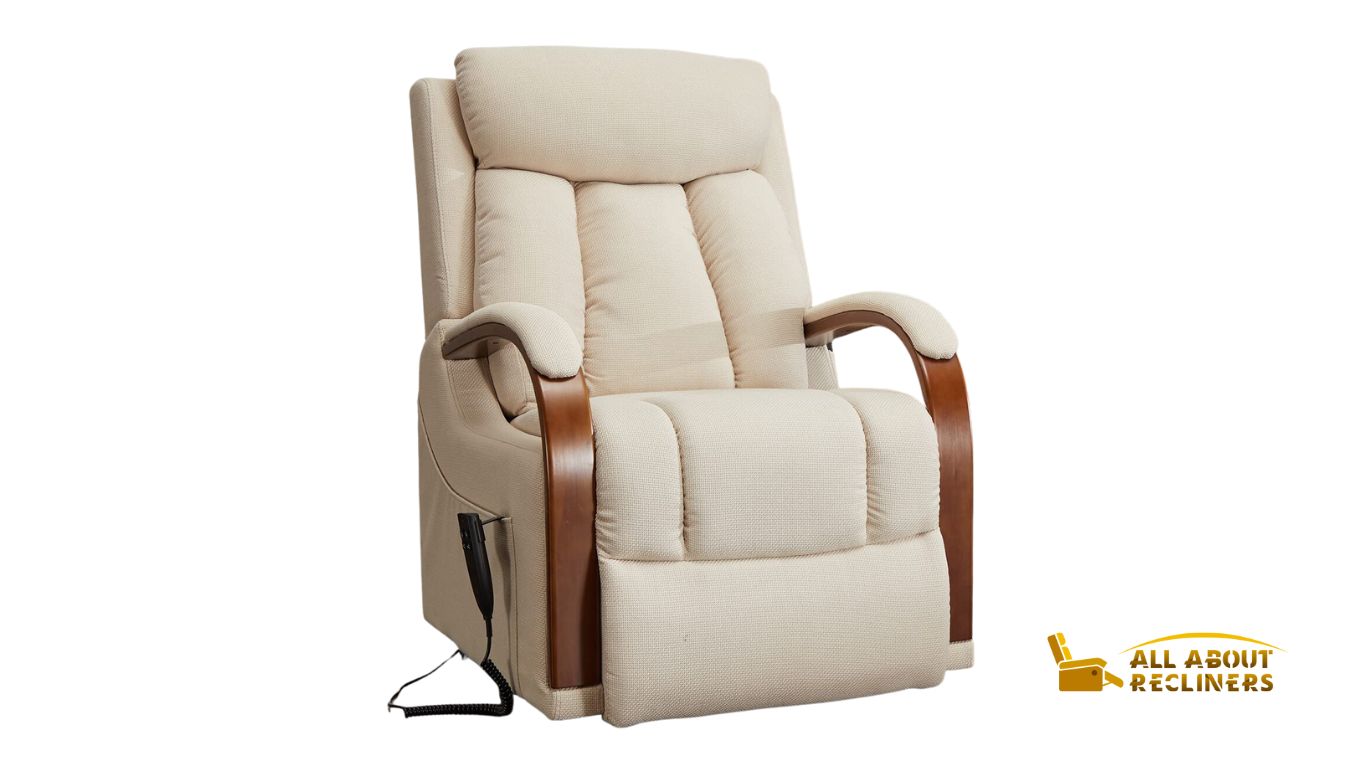 Product Features
| | |
| --- | --- |
| Weight capacity | 275 lbs. |
| Number of Motors | Dual motor |
| Size (Dimensions) | 36″D x 28″W x 42″H |
| Material | Fabric |
Product Review:
Got fed up with faux leather recliners or do they irritate you on bare skin? You can have this fabric recliner with all the features of a power lift leather recliner. They have other variants in different materials too. You can choose a variant that suits your needs.
This variant is suitable for small to medium people under 300 lbs. Design of the recliner is also unique, unlike other plush recliners that look almost the same. Its wooden armrests with padded support are especially nice and sturdy.
The most powerful pro of this luxury chair is its massage feature which offers 8 message settings with three selectable massage areas. The lift function of the recliner is also smooth and quiet.
On top of that, it is a well priced item and provides value for the money.
Pros
Elegant wooden armrest
Extra lumbar support
Infinite positions
Sturdy design
Cons
Short footrest needs to elongate
Expert Recommendations:
I recommend this chair in the category of the most comfortable power lift recliner to eat, sleep, read and just chill.
Best Choice Products Electric Power Lift Linen Recliner
Best Choice Products Electric Power Lift Linen Recliner Massage Chair, Adjustable Furniture for Back, Lumbar, Legs w/ 3 Positions, USB Port, Heat, Cupholders, Easy-to-Reach Side Button – Gray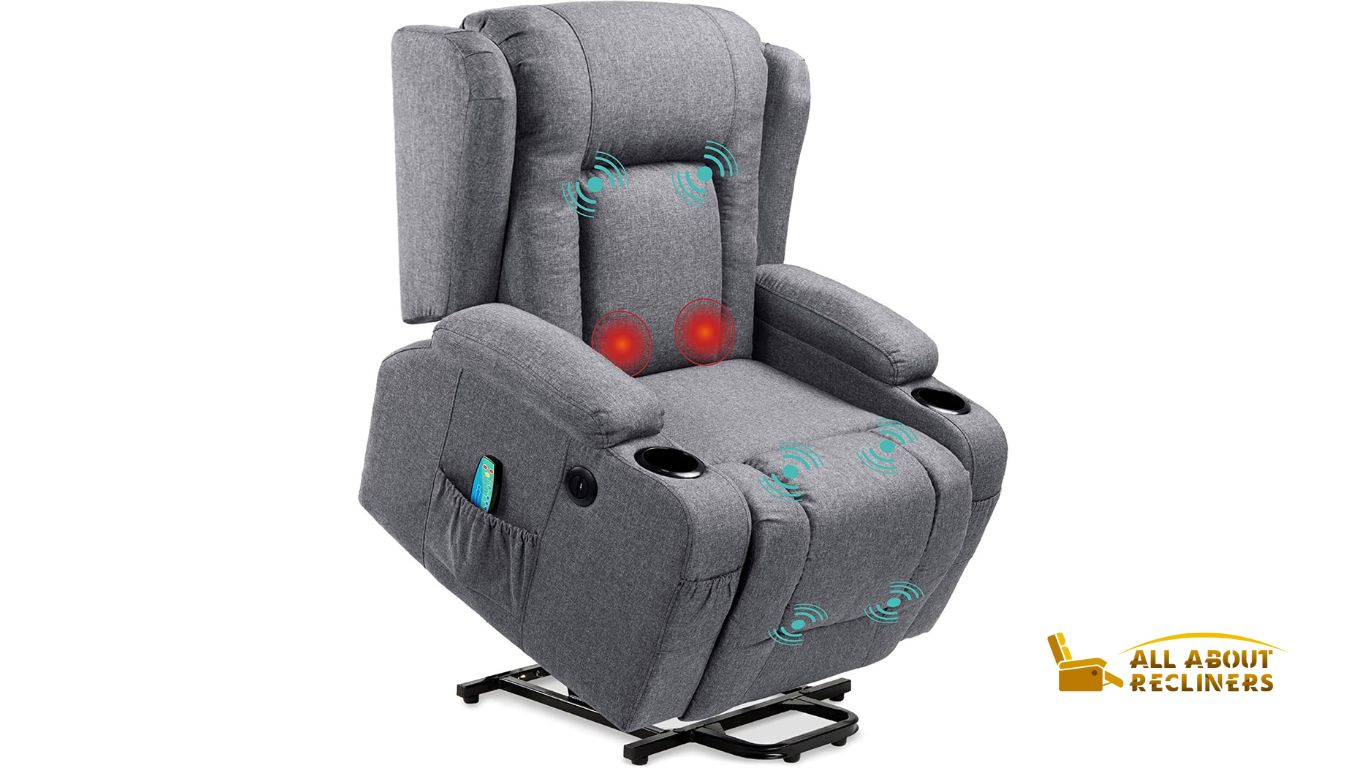 Product Features
| | |
| --- | --- |
| Weight capacity | 330 lbs |
| Number of Motors | Single motor |
| Dimensions | 38″D x 33″W x 40″H |
| Material | Linen |
Product Review:
Looking for a compact and warm power recliner? BCP electric power lift recliner is the best choice for you. With all the features of luxury and expensive power recliners, it is the best for many even for Amazon.
The recliner also has additional features of a USB port, cup holders, and heat/massage options.
It came with three massage modes and 2 heat settings. Massage locations can also be adjusted to different parts including the back, hips, or thighs.
It offers basic three positions. The motor is also quite efficient and doesn't create any sound. The chair can be operated through buttons on the armrest. While heat and massage features are operated through a remote control.
Pros
Excellent heat and a massage feature
Occupy very little place in the room
Compact and easy to set up
Cons
Less padding on massagers
Expert Recommendations:
This is a mod ranged best massager chair for adults and working people. It provides optimal comfort and performance when in use.
Buying Guide for Top Rated Lift Recliners
This buying guide is crafted to assist you with an evaluation of different power lift recliners for small and tall people. Here all the main factors been mentioned that must be considered before buying a dream recliner for yourself, your Mom/Dad, or anyone who needs a recliner to bring some ease and comfort in life.
Power Motors:
The first thing you have to consider before buying power lift recliners is the number of motors it has. If the recliner has two motors, it will offer infinite positions and consequently will cost you more.
If you choose a single motor recliner it will have limited positions at a lower cost. Ingle motor recliners provide the basic features only.
Weight Bearing Capacity:
The second most important factor is the weight bearing capacity of your recliner. If you only choose a recliner seeing its size or dimensions and overlook its weight capacity, that might not fit you perfectly. Obviously, you don't want to invest your money in something that doesn't serve its purpose. Normally power lift recliners can withstand 300 lbs of weight. Though a few are designed to be heavy duty with larger weight bearing capacity.
Size or Dimensions:
Chair size or dimensions are crucial to consider. After all, your recliner will be your happy place and you will never want to make it uncomfortable and painful. Make sure your chosen model has enough space to accommodate your body.
Heat and Massage feature:
This is not a necessity but a luxury for you. After all, you are paying a full chunk of money to buy a single recliner. It would be a highlight if your recliner offers heat and massage features that can be adjusted as per needs.
Read More:
You can read more about Best Recliner for Short People
FAQs
How are power lift recliners better than manual recliners?
The main difference between these two types of chairs is that a manual chair requires you to push down with a lever, while an electric one requires you to press one button to raise or lower it. In addition, an electric chair has more options for adjusting its height, tilt, and backrest position, which makes it more comfortable than a manual chair.
What does a power lift recliner mean?
A type of chair where the machine moves up and down automatically when pressure is applied by the user by remote control.
Benefits of Power Lift Recliner Chairs
There are some benefits of buying power lift recliner chairs over manual ones.
The main benefits of power lift recliner chairs include:
Power lift recliners are designed to be easy to use, even by those with limited strength or dexterity. They have a variety of features that allow customers to quickly alter their settings and posture to achieve the ideal fit for themselves. This means that they will be able to easily navigate through the chair's features without having to struggle with complicated controls or buttons.
In addition to being easy to use, power lift recliners are also convenient because they allow users to rest comfortably while still being able to perform simple tasks such as watching TV, reading books, or sleeping comfortably. This makes them ideal for seniors who need help getting up but don't want a lot of assistance from family members or caregivers.
Power lift recliners come with soft edges and sturdy construction to avoid slipping or any other unfortunate happening, especially with the elderly. These are built with safety standards in mind and can ease the life of elders and injured people who might otherwise fall and injure themselves.
Final Thoughts
Choosing the best power lift recliner is important, but you just shouldn't rely on this guide. First, all you need to do is figure out your exact needs and make a purchase that aligns with your needs.
On top of that, all other features like heat, massage, USB charging ports, and cup holders must be considered too