So, you want to give your daughter a gaming chair. You are right to think that girls deserve the same amount of respect as boys do when gaming and sitting comfortably while they play. That's why we're here with pink gaming chairs.
Most people want to buy a new gaming chair, but it's hard to know the best pink gaming chair. Are you looking for something that has all the bells and whistles regarding comfortability, or are you looking more towards functionality to ensure that it can provide support while still maintaining its lightweight design. One thing's certain, though: if you're an avid gamer who spends countless hours sitting down, then we highly recommend investing in a well-made chair that meets both your needs and wants.
We've researched and reviewed eight of the top-rated Best gaming chairs on amazon, so you don't have to waste your time reading through all those gaming chairs reviews yourself. Our list includes the pros and cons for each one and links where you can read more about them.
Top Eight Best Pink Gaming Chairs
We've done all the work for you by reviewing the best gaming chairs in detail and comparing their specs side-by-side with our handy comparison chart below. All you need to do now is pick which one fits into your budget and feel free to enjoy its comfort while playing games or watching movies.
When you buy through links on our site, we may earn a small affiliate commission at no additional cost to you.
RESPAWN RSP-110 Reclining Chair
RESPAWN 110 Racing Style Gaming Chair, Reclining Ergonomic Chair with Footrest, in Pink
Specifications
| | |
| --- | --- |
| Dimensions | 28.5 x 28 x 51.5 inches |
| Material | Bonded Leather |
| Weight | 46.5 pounds |
The Respawn RSP-110 is the ultimate gaming chair and most comfortable gaming chair on the market. With its ergonomic design, extended footrest, and lumbar support pillows, it's perfect for those long hours of gaming or relaxing. The RESPAWN RSP-110 has a padded headrest that you can adjust to your preferred height.
This ergonomically designed gaming chair provides users with total control of their gaming experience, allowing them to sit in a position that best suits their needs. With infinite locking positions and 4D adjustability, the RESPAWN RSP-110 will enable users to fully recline between 90 and 155 degrees while providing full 360 degrees of swivel rotation. It also features a unique tilt tension control which will allow gamers to set the resistance level they want.
It comes with an extendable footrest so you can stretch out your legs and relax as much as you want. It also features a fully adjustable reclining seat with lumbar support pillows. This product is made of bonded leather, which looks like natural leather but costs much less than genuine leather. It gives this piece a luxurious look at an affordable price point. Bonded leather has all the benefits of natural leather without being expensive.
Pros
Extremely sturdy and rugged construction
Wider set to support a big person
Quality and comfort
Reasonable price
Cons
Armrest bolts are cheaply made
Not perfect material for the summer season
Nokaxus Gaming Chair
NOKAXUS Gaming Chair Large Size High-Back Ergonomic Racing Seat with Massager Lumbar Support and Retractible Footrest PU Leather 90-180 Degree Adjustment of backrest Thickening sponges (YK-6008-PINK)
Specifications
| | |
| --- | --- |
| Dimensions | 33.07 x 25.59 x 12.6 inches |
| Material | Polyurethane |
| Weight | 57 pounds |
The Nokaxus Gaming Chair is the ultimate choice for gaming. The chair comes with high-quality PU leather and is equipped with large and soft handrails. It has a wide backrest for your comfort and support, as well as a headrest to ensure you have all the help you need. The chair also features adjustable height armrests that you can move up or down to accommodate your needs.
This gaming chair is designed for people who are into PC gaming, console gaming, or even those who just want to watch movies comfortably. It has a thickened support chassis and high-density cushion that will provide you with comfort for many years to come. The Nokaxus Gaming Chair has a high backrest, which will give your upper body extra support while you're sitting down and playing games on your computer.
The Nokaxus provides the ultimate gaming chair with everything you need for a comfortable and fun gaming experience. The chair features an adjustable head pillow, footrest, massage function, 360 degrees of rotation, and plenty of seating space to accommodate all your friends.
The Nokaxus Gaming Chair allows you to game for hours without experiencing back pains or fatigue thanks to its ergonomic design and easy assembly process. This is the perfect gift for any gamer who wants to enjoy their favorite games in comfort!
Pros
Perfect grip to the head and back
Sturdy material and base
Nice looking upholstery
Easy to assemble
Cons
Armrest safety is slightly compromised 
Footrest extends short
Not comfortable for long hours
AutoFull Pink Gaming Chair
AutoFull Gaming Chair Pink Bunny Ergonomic Gamer Chair with Lumbar Support PU Leather High Back Racing Computer Chairs
Specifications
| | |
| --- | --- |
| Dimensions | 22.4 x 20.8 x 50.8 inches |
| Material | PU Leather |
| Weight | 56 pounds |
The Autofill Pink Gaming Chair is a comfortable, ergonomic, and stylish high-back leather computer gaming chair with a 360-degree swivel that locks into place at any angle between 90 and 155 degrees. You can adjust the seat height to fit your body size by using the adjustable gas lift lever underneath the seat. You will also feel extra comfort from the lumbar pillow and head pillow, which are included as part of this package.
The Autofill Pink video Game Chair is designed for the gamer who has more than just a casual interest in their hobby. It's built to last, and it looks good too. The metal frame of this pink and white gaming chair can take the punishment that comes with long hours of playtime, and it will always look as good as new. The gas spring ensures smooth reclining action so you can find the perfect angle for playing your favorite games.
This premium gaming chair has everything you need for comfort and performance. The ergonomic design offers a healthy back posture with high-quality PU leather that is easy to clean. The heavy-duty metal base provides smooth rolling caster and one of the best gaming chairs with wheels.
Pros
Wider seat with perfect grip
Nice design and sturdy build
Comfort at its peak
Fluffy arm covers
Cons
Little noisy while reclining
Homall Gaming Chair
Homall Gaming Chair Racing Office Chair High Back Computer Desk Chair Leather Executive Adjustable Swivel Chair with Headrest and Lumbar Support (Black)
Specifications
| | |
| --- | --- |
| Dimensions | 34 x 26 x 12 inches |
| Material | Faux Leather |
| Weight | 46.4 pounds |
This high-quality leather chairmaking has a modern look with its patchwork, stitching, and embroidery. It uses contrast colors to create an exciting design. The material used for the chair is faux leather which is durable and easy to clean. This gaming chair comes with a headrest pillow, lumbar support pillow, and armrest pillow for your comfort and relaxation while playing games or watching movies on your computer or TV.
This pink rolling chair is designed for gamers who spend hours sitting in front of the computer. It has everything you need to stay comfortable and focused on your game. The racing-style design will make sure that you have a great view from all sides. The adjustable height function means that you can find the best angle to relives strain and keeps your body happy. You will also get extra cushioning at the backrest and armrests, perfect if you want to take a nap after playing for too long.
Flexible and comfortable to sit on. No matter how long you have been sitting, you will be very pleased. The chair is made of breathable mesh fabric, which provides a fantastic feeling when you are sitting.
Pros
Extremely comfortable chair
Durable and long-lasting
Wonderful lumbar and neck support 
Bonzy Home Gaming Chair
Bonzy Home Gaming Chair Office Chair High Back Computer Chair PU Leather Desk Chair PC Racing Executive Ergonomic Adjustable Swivel Task Chair with Headrest and Lumbar Support (Pink)
Specifications
| | |
| --- | --- |
| Dimensions | 32 x 25 x 12 inches |
| Material | PU Leather |
| Weight | 42 pounds |
Bonzy Home Gaming Chair is a professional gaming chair for PC gamers. Its ergonomic design and high-quality material provide you with comfortable and healthy back support while sitting so that you can play games for hours without fatigue. The chair is also suitable for office work, computer work or reading, etc.
The Bonzy Home Game Chair provides comprehensive support for your whole body while gaming at home or work. You can adjust it from 90 to165°, which can help you maintain a good posture and reduce back pain. This gaming chair provides comprehensive support for your waist, upper shoulders, and neck. The removable headrest pillow and lumbar cushion can give you the most comfortable experience while sitting.
Bonzy Home Gaming Chair is a comfortable pink computer chair that you can assemble by yourself in minutes. It has a design meant to support the body and eliminate pressure points, making it perfect for long hours of gaming, studying, or relaxing. It has a sturdy frame and is made from durable material, which makes it safe to use. The chair has an ergonomic design and can be adjusted to fit different body types.
Pros
Easy to assemble
Reasonable priced
Value for the money
Durable and long lasting
JUMMICO Pink Gaming Chair
JUMMICO Pink Gaming Chair Adjustable Racing Chair Halo Series Specialty Design Ergonomic Comfortable Swivel Computer Chair with Headrest and Lumbar Support (Pink)
Specifications
| | |
| --- | --- |
| Dimensions | 33.07 x 25.59 x 11.02 inches |
| Material | Leather |
| Weight | 41.7 pounds |
JUMMICO Pink Gaming Chair provides a comfortable and healthy sitting experience. It is made of high-quality PU leather, which makes it soft and durable. The ergonomic design offers excellent support for your back, neck, and head, reducing the pressure on your body. The breathable mesh material allows air to circulate inside the chair. Its lightweight frame makes it easy to move around or carry with you anywhere you go.
The JUMMICO pink girl gaming chair is designed for professional gamers, with a maximum capacity of 300 lbs. The ergonomic design provides a comfortable and healthy sitting posture, which can help you focus on your game and improve your skills. This gaming chair has 360 degrees swivel, smooth-rolling casters, and an adjustable backrest with a 90 to180 degrees safety angle so that you can enjoy an immersive experience while playing.
This small gaming chair has a comfortable ergonomic design and can be adjusted from 18.8 inches to 22.8 inches in height, making it suitable for children of all ages. The chair is designed with a soft headrest, armrests that are also adjustable up and down, as well as a lumbar support cushion that allows you to make this small game chair the best fit for your child.
Pros
Comfortable chair
Sturdy construction
Nice looking chair
Reasonable price
Cons
Not for bigger guys
Not easy to assemble
Killabee Massage Gaming Chair
Massage Gaming Chair Racing Computer Desk Office Chair High-Back Swivel Recliner Chair with Retractable Footrest and Adjustable Lumbar Support, Pink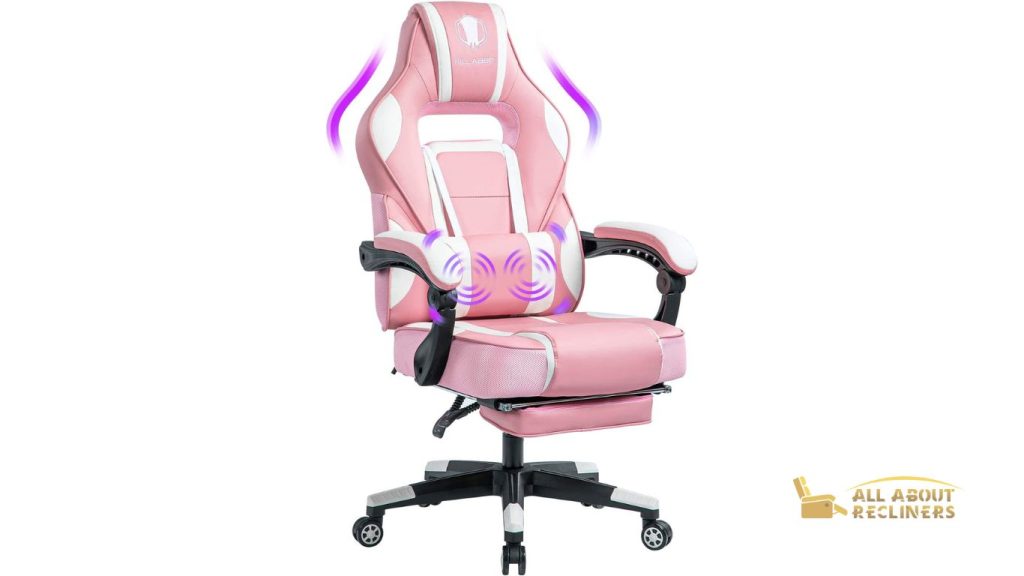 Specifications
| | |
| --- | --- |
| Dimensions | 26 x 26 x 48.4 inches |
| Material | PU Leather |
| Weight | 54.9 pounds |
The JUMMICO Pink Racer Style High-Back Gaming Chair is perfect for gaming, reading, or watching TV. The high back design provides maximum support and comfort. The 360-degree swivel allows you to spin around in your chair without getting up. This pink spinney chair is a high-quality chair made with premium PU leather and high-density foam that will provide you with the ultimate comfort.
JUMMICO's Pink Gaming Chair is a beautiful addition to any woman's home office or gaming room. The adjustable lower back support cushion provides the correct pressure to help relieve stress on your neck and shoulders while you work or game.
This Pink Gaming Chair is a high-quality chair that you can use for any purpose. It has a sturdy design, and the fabric is soft and comfortable. The backrest can be adjusted between 90 degrees and 160 degrees to find the perfect position. You can also change the seat base so that you can raise or lower it between 3 inches. It is a pink gaming chair with footrest which makes it possible to put your feet up when needed, which will help you relax better.
It's the ideal gift for any girl gamer. With a hydraulic gas lift and integrated frame base, this gaming chair can support 250 pounds. The JUMMICO Gaming Chair pink is also easy to put together with all tools included.
Pros
Assuage feature enabled
Sturdy and durable construction
Comfortable and relaxing chair
Easy to assemble
Cons
Short footrest
Armrest material is not so good
Giantex Massage Gaming Chair
Giantex Massage Gaming Chair Pink, Ergonomic Video Game Chair with Footrest, High Back E-Sport Computer Chair with Headrest & Massager Lumbar Support, PU Leather Gaming Seat
Specifications
| | |
| --- | --- |
| Dimensions | 29 x 29 x 49 inches |
| Material | Leather |
| Weight | N/A |
The Giantex Massage Gaming Chair is a great way to relax after a long day or even while you are working. The chair has an ergonomic design that will support your back and neck. You can sit on this pink swivel desk chair for hours without feeling any pain in your back, shoulders, or legs. The headrest pillow and waist cushion will give you a comfortable position when gaming, reading, watching TV or just relaxing. This chair also comes with a USB massage cushion that can massage your lower body if you need it.
This pink patent leather chair is the best choice you can make for your comfort and health. It features a classic design that will fit in any room of your house, from the living room to the bedroom. The massage function helps improve blood circulation and relieves muscle tension, making it perfect for those who spend long hours sitting at their desk.
With its adjustable armrests and flexible lumbar support, this chair provides complete comfort whether you're reading. It has been built using high-quality and safe material and features a thick sponge. This makes it ideal for long hours of sitting in your office or home. The chair can rotate 360 degrees to be convenient for you to play games or watch TV. It also has a free sliding design, which will make your sitting more comfortable.
Pros
Self-explanatory assembly
Cushy pillow and back support
A pretty looking and comfortable chair
Cons
The massage feature is a little loud
What To Consider When Buying The Best Gaming Chair
One may wonder about the best way to comfort oneself the most when gaming. Here are what to consider when buying the Best gaming chair that will provide comfort and serve as a style statement on your room.
Armrests
The next thing to consider is the armrests of the gaming chair. If you are going to be using a desk that has different heights, it may be better if your gaming chair also fits in with the size of your table/desk. This will prevent injuries and pains on your body by putting your hands or wrists into awkward positions for more extended periods—this is mainly seen when people game on PCs as they tend to raise their chairs higher than average chairs do.
Back Support
Having back support on your chair is very useful as it will make you feel more secure when leaning back. This can prevent injuries such as muscle spasms that may occur from poor sitting posture. If possible, choose the Best gaming chair with adjustable lumbar support to further control the amount of discomfort you would experience. This will avoid unnecessary pains caused by a lack of proper body alignment and pressure points. The last thing to consider is how much cushioning, or padding does the chairs have. Most common in choosing this are leather padded seats which provide maximum comfort—try not to choose pink chairs without any cushions at all if possible because this may cause pain later on as they do not offer the necessary bodily support.
Reclining
The next thing to consider is the reclining option of your chair. Best girls gaming chairs come with a reclining feature as it makes it possible for you to adjust the tilt angle of your backrest, which is also known for providing support when relaxing. Make sure that there are no sharp corners on your seat so that you can be at ease while reclining in any position.
Size
The first thing to consider when buying the Best gaming chair for your room is its size. The right side of the chair can protect you by providing ample space for movement and preventing any injuries that an oversized chair may cause. From this, choosing a big-sized chair may cause unnecessary strains on your body parts such as legs and arms.
Materials
The next thing to consider is the materials that are used in making the chair. The most common material used in making gaming chairs is leather, durable and comfortable, and can last for a very long time. To save money, one may use fabric seat covers instead of buying an entirely new gaming chair each year. In choosing a fabric seat cover, make sure that it will be compatible with your current Best gaming chairs' design—some fabrics may clash with the color of your table or your room's theme. Choose light colors such as white or blue if your desk has darker colors to avoid this problem.
Color
The next thing to consider is the color of your chair. This may be both a style and functionality issue as colors such as red or blue can cause strain on your eyes—this may result in headaches and fatigue if used for more extended periods. The best way to avoid this problem is by choosing a white or pink game chair with minimal design patterns on its surface.
This will provide the best results in terms of performance and usability as it is easy on your eyes.
Padding
The next thing to consider is the padding of your chair. Try not to choose chairs with high armrests as this will put more stress on your hands when typing or playing games—this will also put unnecessary pressure on your lower back. This may also be a problem if you plan to use your Best gaming chairs for more extended periods as it can cause pain in the neck, shoulders, and back area.
The most common material for providing comfort and good rest is memory foam padded seats with anti-bacterial properties that prevent stains from forming on their surface. While choosing this kind of material, try not to choose ones with standard cushioning but opt for ones with extra padding instead so that you can rest easy after a hard day's work.
Warranty
The next thing to consider is the warranty of the product. If you are going to buy a gaming chair for multiple years, it would be wise to choose one with an extended warranty period. Replacement service should anything happen to your chair in later years it will provide more value for your money and confidence over the product you have chosen.
Price
Lastly, consider the price of the Best gaming chairs that you are interested in buying—try not to spend too much on these products unless they can give you extra benefits such as height adjustment and massage function. Choosing high-end gaming chairs won't necessarily make them better than others—especially if your needs do not match the amount of money you will be spending.
Frequently Asked Questions
Here are some answers to the question frequently asked.
Are gaming chairs comfortable?
Gaming chairs can be used to provide a comfortable surface for anyone who spends a lot of time working on their computer. The ergonomic chair design will help keep your back properly aligned and prevent strain in all of the right places.
They also come with plenty of plush padding, so you'll never have to worry about feeling sore after long hours at work or school. If you're looking for something that feels like sitting in your favorite armchair at home, then investing in a quality gaming chair might just be what you need!
How tall is the pink gamer chair?
I am here to tell you that the pink racing chair is not as tall as you might have thought. There are two different heights, one for kids and one for adults. The adult's height measures 27 inches, while the kid's height measure 18 inches. So if your child is over 5'2″, they will need to grow up a little more before being considered an adult in their own right!
How do you sit in a gaming chair?
Don't let the name fool you. Gaming chairs are not just for gamers. They're a popular choice for people who work at desks all day and need to continue being active or those with back issues that need some relief from sitting in a traditional chair. How do you sit in one?
1) Sit down on the chair and adjust it, so it's comfortable 2) Lean back until your arms are resting comfortably against the armrests 3) Lift your feet off the ground 4) Rock slightly forward and backward to find a comfortable position 5) Sit still for 10 minutes.
Why are gaming chairs so expensive?
Gaming chairs are expensive for many reasons, but the main reason is that they're designed with ergonomics in mind to ensure gamers stay safe and healthy while playing their favorite games.
CONCLUSION
The best pink gaming chair is out there waiting for you, but it's essential to do your research and find the perfect match. We hope this buying guide has helped narrow down some of the features that might be most important to you so that you can make a better decision about which chair will work best for you! If anything feels unclear or missed, let us know, and we would be happy to help!