Power vs Manual Recliners- Which Works Best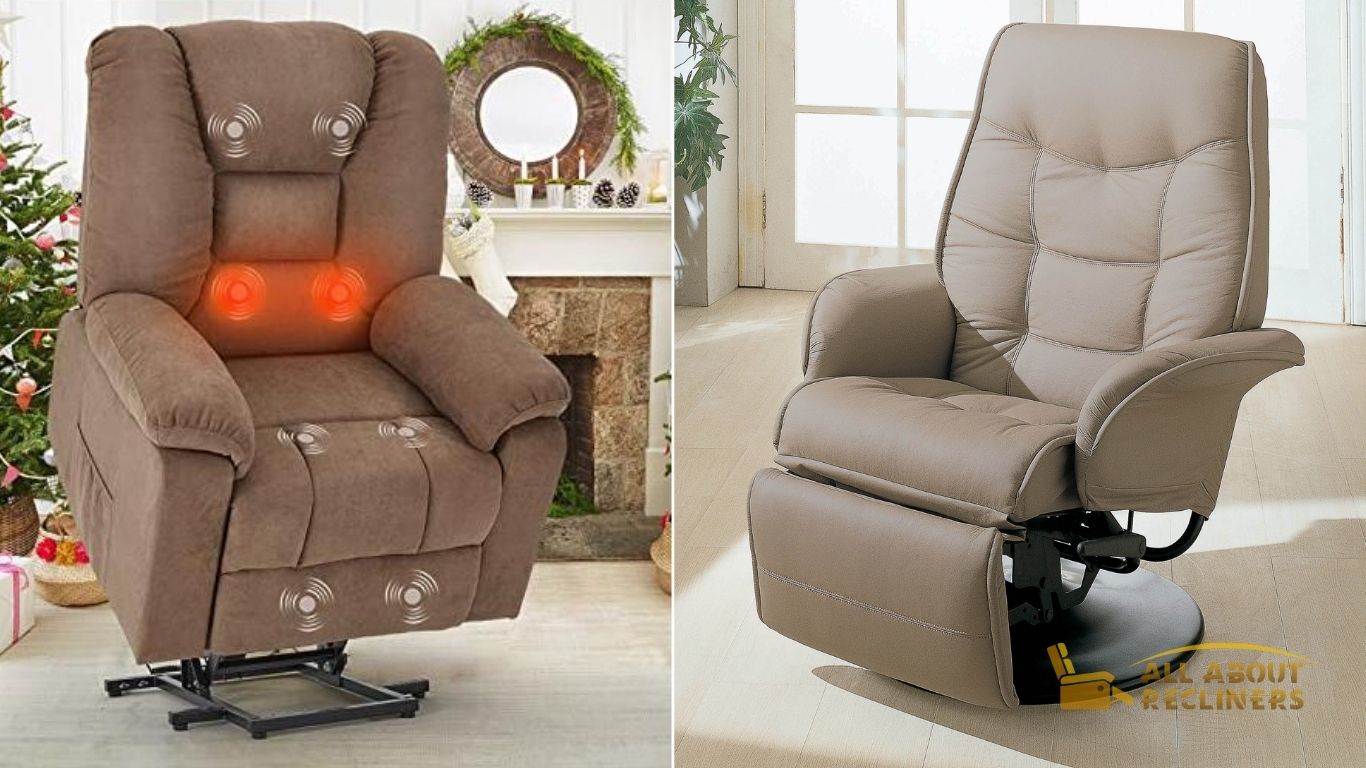 Recliners have been popular in American households since the 1980s. The trend started with simple manual reclining chairs and new models with varying features coming pouring into the market. And now there are two types of recliners equally popular among people. As a new buyer, you might be choosing manual or power recliners. And want to know which one works best? I feel you.
Well, it's hard to vote for one in manual vs power recliners as both have their own set of pros and cons. But to make a wise buying decision you need to know the differences between manual and power recliners. Here I will break down the for and against of each type of recliner chair to help you choose one for your room or living room.
Power Recliners
Power recliners or electric recliners refer to those that are operated by electric motors. They come with one or two motors that allow you to adjust the recliner to your desired position.
These are operated with remote control and offer many luxurious features in addition to the basic features of reclining chairs.
Here I have discussed all the pros and cons of power recliners that you should know.
Pros
Ease of Use: Major strength of Power recliners or electric recliners is their ease of use with a simple touch of a button. As these are operated by electric motors, they don't need any physical effort to readjust positions. 
Infinite Positions: Some of the power recliners have two motors that operate each part of the recliner separately including the headrest, footrest, and lumbar area. This allows infinite locking positions of a power recliner, unlike manual ones. You may recline at 135° degrees or lay flat to sleep in your happy place. 
Heat and Massage Feature: Most power recliners feature heat and massage options too. One can simply operate these features with a remote control and enjoy some deep relaxing time in their recliner. These features are especially beneficial for the elderly and patients. 
Other Luxurious Features: Some power recliners also have USB charging ports, Bluetooth speakers, power lifts, gliding, rocking, and swivel features. That adds to the overall experience on those recliners. Some of these features may have special appeal for some users. That is why these are worth considering while choosing one for yourself. 
Cons
Occupy more Space: First thing first, power recliners are larger and need more space. They feature heavily padded armrests, lumbar areas, footrests, and headrests and are generally wider and longer in size than manual ones. So if you have a small room or living room they might not suit you. 
Less Durable: As these electric recliners operate on a motor, there are more chances of them being jammed or not working properly. Moreover, motors can burn out with time or might develop any fault. So generally power recliners are less durable. 
Require Electricity: These recliners are operated by electric motors. These need to be plugged into a power outlet near a wall. So these can't be placed anywhere in the house. Rather you need to arrange a specific place near the power outlet. 
Manual Recliners
Manual recliners or simple push arm recliners have a simple working mechanism that operates on a lever with manual push. They are nice, low profile reclining chairs with basic features. Manual recliners are easy to use, simple to maintain, and do not require electricity to work.
Pros
Durability: Manual recliners are more durable than power recliners, so they will last longer. According to small research conducted by us, manual recliners are likely to last around 10-15 years. 
Don't require Electricity: Manual recliners don't require electricity or batteries to operate them; they do not have to be plugged in while they are being used. So they can be placed anywhere suited. 
Go Well With Room Decor: These are available in many different designs and seating materials and go well with the current interior and room decor. Manual recliners are low profile and occupy less space contrary to power lift recliners. These are suitable for small rooms or living spaces.
Less Costly: The most important highlight of these recliners is being affordable. They are less expensive than most power recliners. Hence you can afford them even if you are on a tight budget. 
Cons
No lift features: These recliners do not offer power lift features. These may not be suitable for the elderly who struggle with basic tasks like standing up and sitting down.
Require Manual Effort: These recliners are also not great choices if you have mobility issues because they require some strength to lower or raise the backrest, or footrest.
Final Verdict:
Power and manual recliners have many positive sides. However, all these recliners are not without their drawbacks. So the decision mainly depends on your physical condition, requirements, and budget. For example, if you have a bad back and struggle getting up from a seated position, a power lift recliner would be a choice for you. But if you want a simple recliner to unwind after a long working day and watch your favorite movie in a comfortable position, a manual recliner would be great for you.
However, if you still feel confused, check out my detailed buying guides for each type of recliner.
Read More: Best Recliner Chairs for Small Spaces and Best Power Lift Recliners
FAQs
How long does a power recliner last?
A power recliner operates on one or two motors. However, longevity is determined by a variety of factors, including how frequently you use it, the seating material, and how well you maintain it.
Generally, power lift recliners can last for up to 5-10 years. For more details on the Best Power Lift Recliners, see our detailed article.
Which is better, power or an electric recliner?
Each one has its own costs and benefits. But the final decision depends on your personal requirements and preferences.
Can a power recliner be used manually?
No, the simple answer is that power recliners are motorized, so they can not be used manually. We need electricity or batteries to operate them. However, there might be some specific models that can be used manually.