Best Recliner for Short People – Recliners for the Vertically Challenged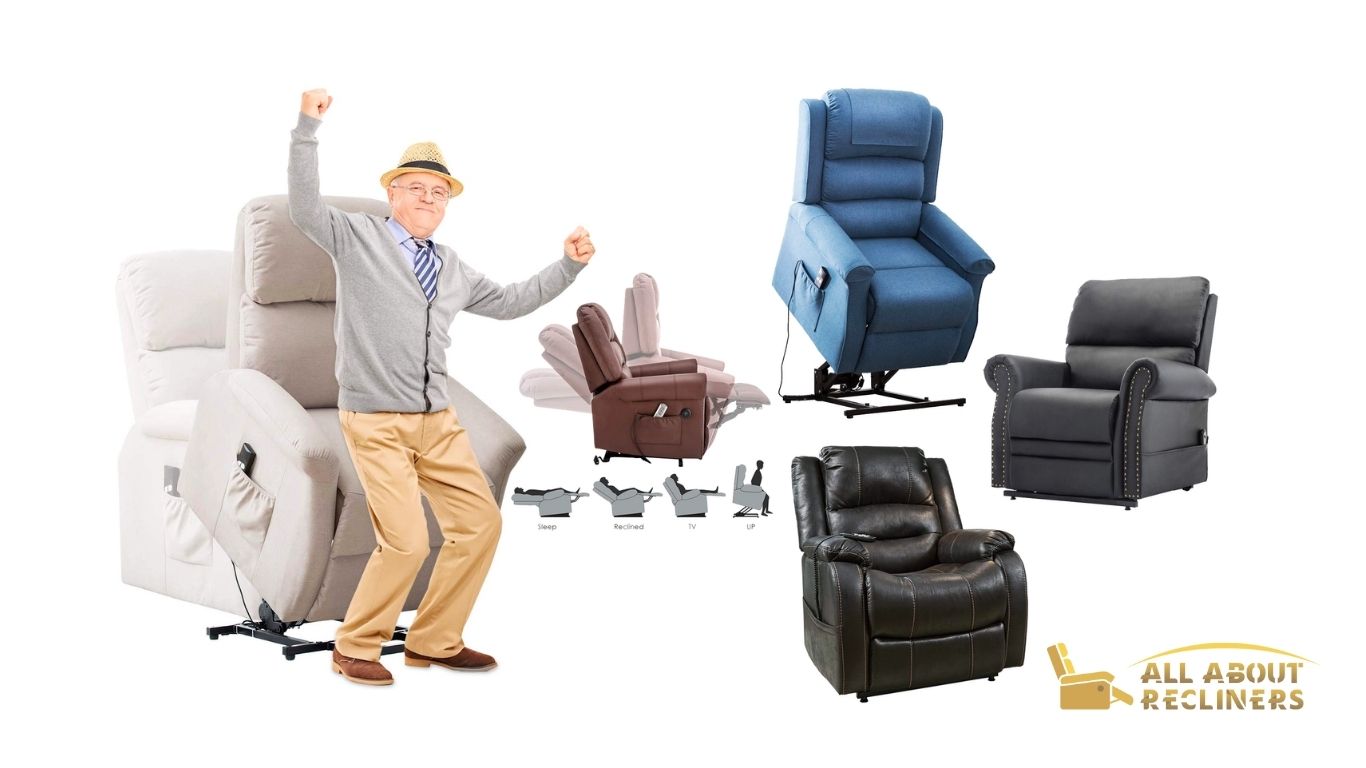 If you are a petite person you might know the struggle of short people adjusting to normal sized products. Especially when it comes to buying a relaxing recliner chair. Standard sized recliner does not fit a petite person with shorter legs. They might feel they do not feel comfortable in the seats that are supposed to be comfortable. Headrest and leg rest are also quite uncomfortably built which might cause more pain than relaxation.
Finding the best recliner for short people needs extensive research and hours of time to spend reading hundreds of small recliner reviews and choosing the one that might fit your requirements and body type.
Lucky for you, I have done all the hard work on your part. After my extensive testing and research, I have chosen 5 top-rated recliners for small people and shared detailed reviews alongside product pros and cons. If you struggle with mobility or want a chair offering unparalleled comfort, I have got some perfect recommendations for you being a short person with short legs. I have also crafted a detailed buying guide that will help you choose the best option and simplify your buying decisions.
When you buy through links on our site, we may earn a small affiliate commission at no additional cost to you.
Tried and Tested
Here are my top picks in different categories of small-man recliners.
Best Small Electric Recliner For Small People:
Irene House 9188 Lay Flat Recliner – This is a great choice because it has a lot of features that make it worth buying. For example, it has a built-in lumbar support and headrest so you can rest your head and neck comfortably in infinite positions. It also offers heat and massage features to provide you the optimal comfort.
Best Small Recliner for Obese People:
Pulaski Ashewick Swivel Glider Recliner – This is another good option for those who want an extra roomy recliner that can accommodate them even if they are short in stature. It has a larger frame than others and allows you to lay back when sitting or when getting up from the seat.
Best Power Lift Recliner for Short Person:
MCombo Small Power Lift Recliner Chair – This is a small modern recliner with heat and massage features. While this model is more expensive than some others on this list, it's worth every penny because of its durability and comfort.
5 Truly Small Best Recliners for short People
A small recliner can be the perfect way to relax and spend some good time indulging in your favorite activity. There are various options that are specifically designed for small people in mind. But life is high voltage and we don't have enough time for research and testing. This is why it can be a tiring task to spot the one golden piece that suits your needs.
Here I have listed my top picks in different categories to help you buy the one that fits your specific needs and physical conditions.
MCombo Small Power Lift Recliner Chair For Short People
MCombo Small Power Lift Recliner Chair with Massage and Heat for Short Elderly People, Fabric 7569 (Burgundy, Small)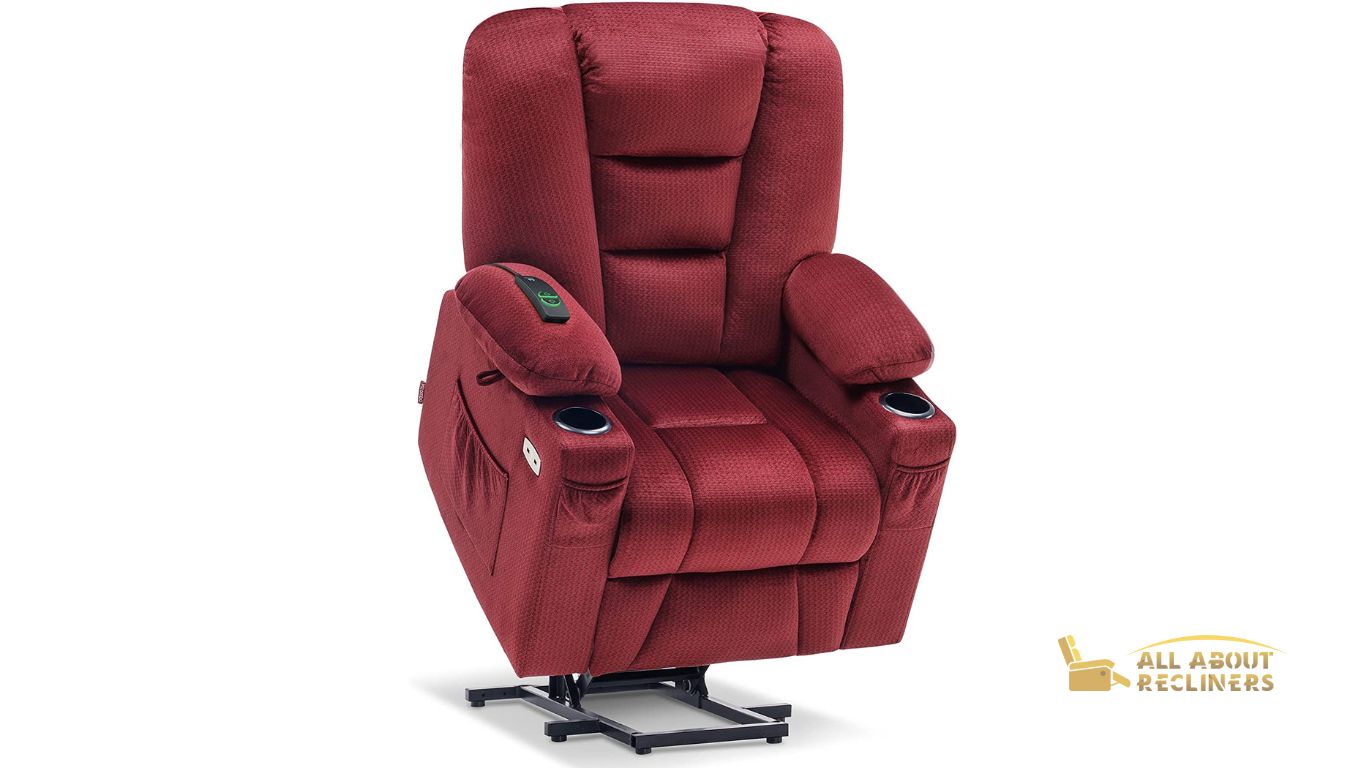 Product Review:
Standard sized recliners just won't fit you or you are an extra petite person who wants a lift chair that looks and works like a traditional recliner? This is the best product you could ever buy. It has a full reclined length of 68.8″ with a seat height of around 20 inches. With these dimensions and sizes of the recliner, you do not have to worry about fitting a headrest or an extra larger size.
The most powerful highlight of this recliner is its heat and massage feature alongside the basic features of a recliner. The massage and heat features can be operated separately with a remote that is very easy to operate. The massage feature allows readjusting the intensity of vibration as needed.
It is not only a suitable recliner for the short person but also suitable for small spaces. It requires only 16 inches of space to recline fully and comfortably.
Product Features
| | |
| --- | --- |
| Weight capacity | 320 lbs |
| Power Source | Power Lift |
| Size (Dimensions) | 31.5″(L)x35.4″(W)x42.1″(H) |
| Material | Textile + Steel Frame |
Pros
Three positions
Suitable for small spaces
Heat and massage features 
Has medium and large-sized variants too
Cons
No swivel or gliding feature
Expert Recommendations:
I recommend this to any short person in height brackets of 4'6″-5'2". This is comfortable, sturdy, and easy to assemble.
JUMMICO Recliner Chair
JUMMICO Recliner Chair Adjustable Home Theater Single Fabric Recliner Sofa Furniture with Thick Seat Cushion and Backrest Modern Living Room Recliners (Aurora Grey)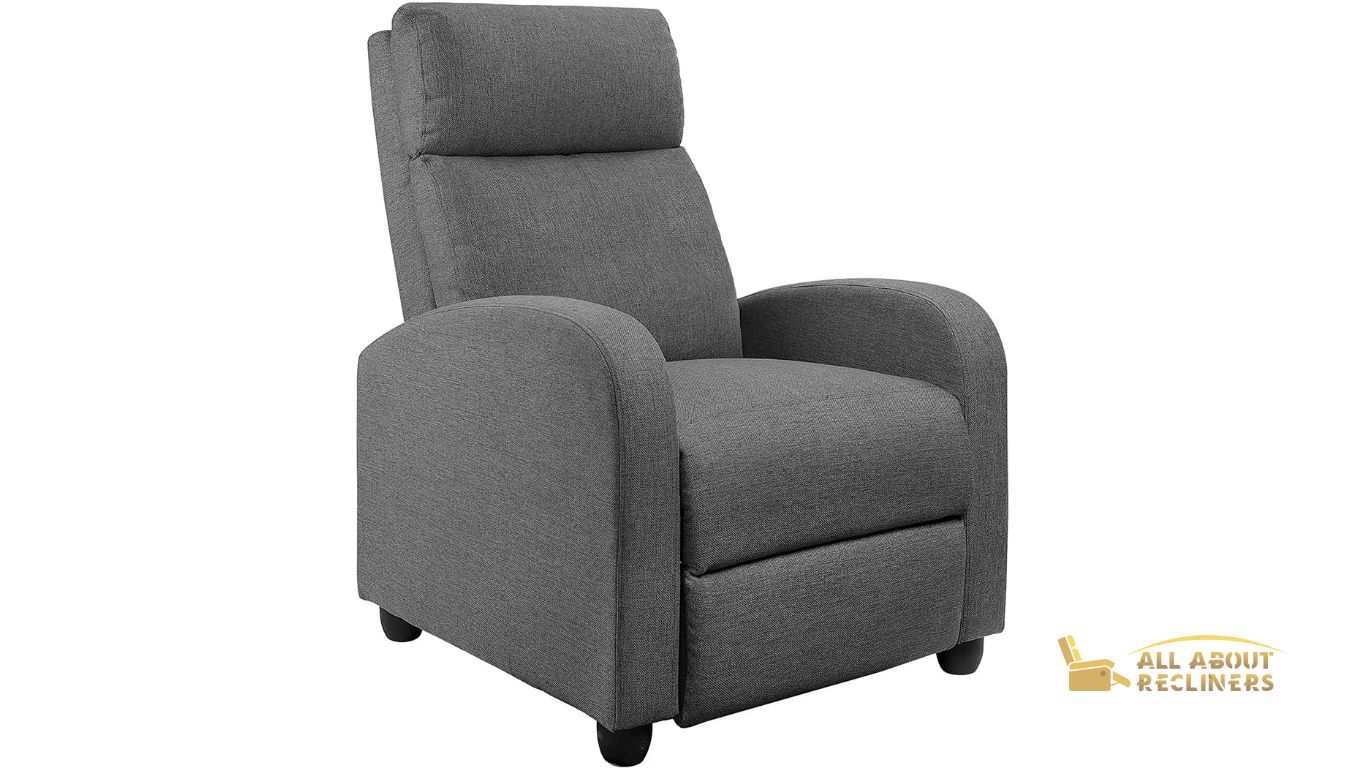 Product Review:
Do you want an affordable small recliner for your home theater or living room? I have found a good choice for your exact needs. Whether you need a petite-sized manual recliner chair for your room or library, it can really serve the purpose.
I found it easy to assemble and a nice looking recliner. With 18 inches of seat height and around 64 inches of fully reclined length, it is truly made for short people with small legs. I really liked the size and comfort of this recliner chair. This offers comfort and a nice feel and can be chosen over any other option of office reclining chairs.
All in all, it is a valued purchase for the price paid.
Product Features
| | |
| --- | --- |
| Weight capacity | 270 lbs |
| Power Source | Manual |
| Size (Dimensions) | 29″D x 20″W x 39″H |
| Material | Textile + Wooden frame |
Pros
Easy to put together
Inexpensive
Comfortable
Upholstered design
Cons
Manual mechanics
No heat or massage feature
Expert Recommendations:
The Jummico recliner chair is a perfect choice for those looking for an affordable recliner chair with the basic features of a traditional recliner.
Pulaski Ashewick Swivel Glider Recliner, Doodles Ash 
Pulaski Ashewick Swivel Glider Recliner, Doodles Ash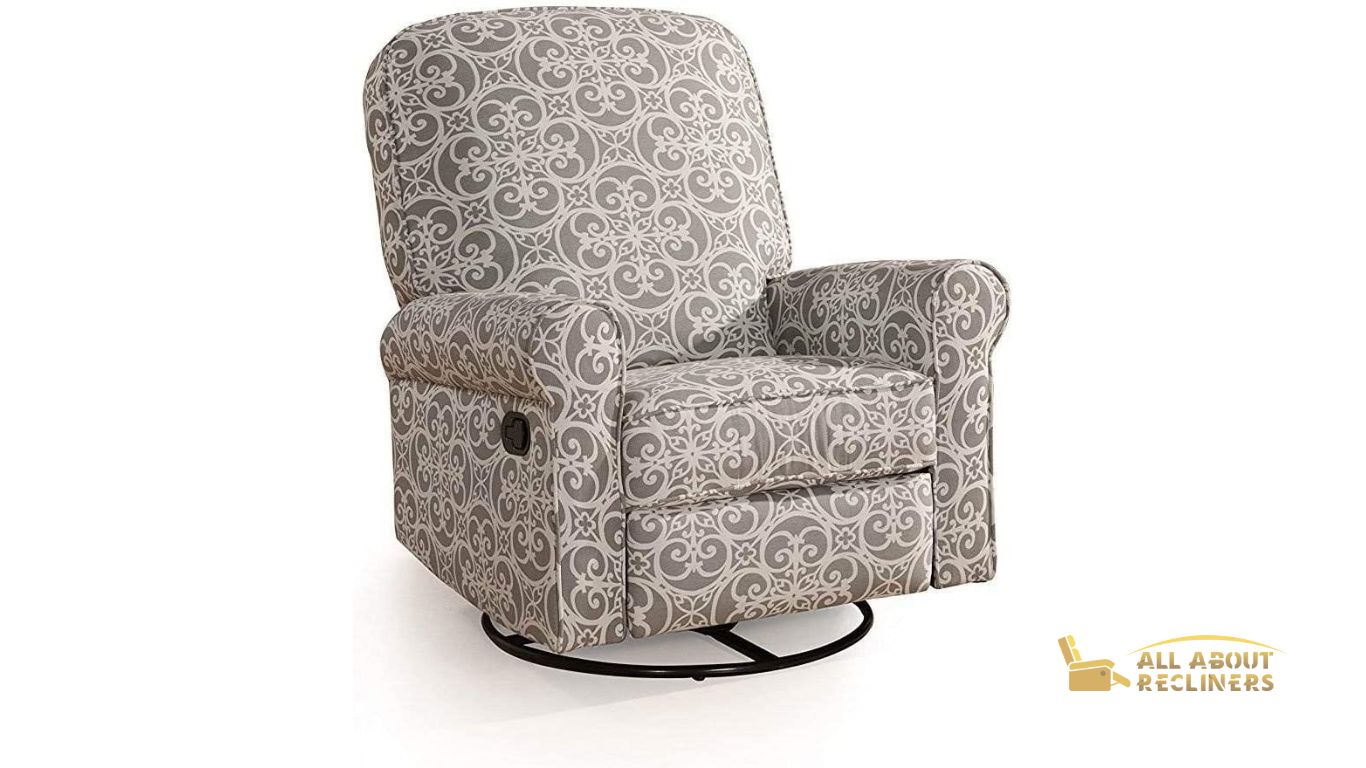 Product Review:
Is it hard to find an immaculate recliner for your bedroom? No more. Pulaski Ashewick swivel small recliner is what you have been searching for. This recliner has many other variants slightly differing in size and seating Fabric. I had a doodle ash variant and it went really well with my bedroom interior. It's a glider recliner with a smooth 360° swivel and rocking features. This can swivel and rock simultaneously. My friends and family liked it too.
The recliner is an excellent mid ranged recliner with the required comfort. Even though its reclining mechanism is manual still, the footrest comes all the way out in a fully reclined position.
Though it's small-medium in size, the seat is pretty wide that can be suitable for short people with wide backs.
Product Features
| | |
| --- | --- |
| Weight capacity | 300 lbs |
| Power Source | Manual |
| Size (Dimensions) | 37.0″ L x 38.5″ W x 42.0″ H |
| Material | Wood + Foam + Fabric |
Pros
Rocking, gliding, and swivel features all in one recliner
Three positions 
Catchy design and color 
Expert Recommendations:
I recommend it to anyone looking for a wide recliner with a short length. This is comfortable, comfy, and looks great too.
Homall Recliner Chair Padded Seat 
Homall Recliner Chair Padded Seat Pu Leather for Living Room Single Sofa Recliner Modern Recliner Seat Club Chair Home Theater Seating (Black)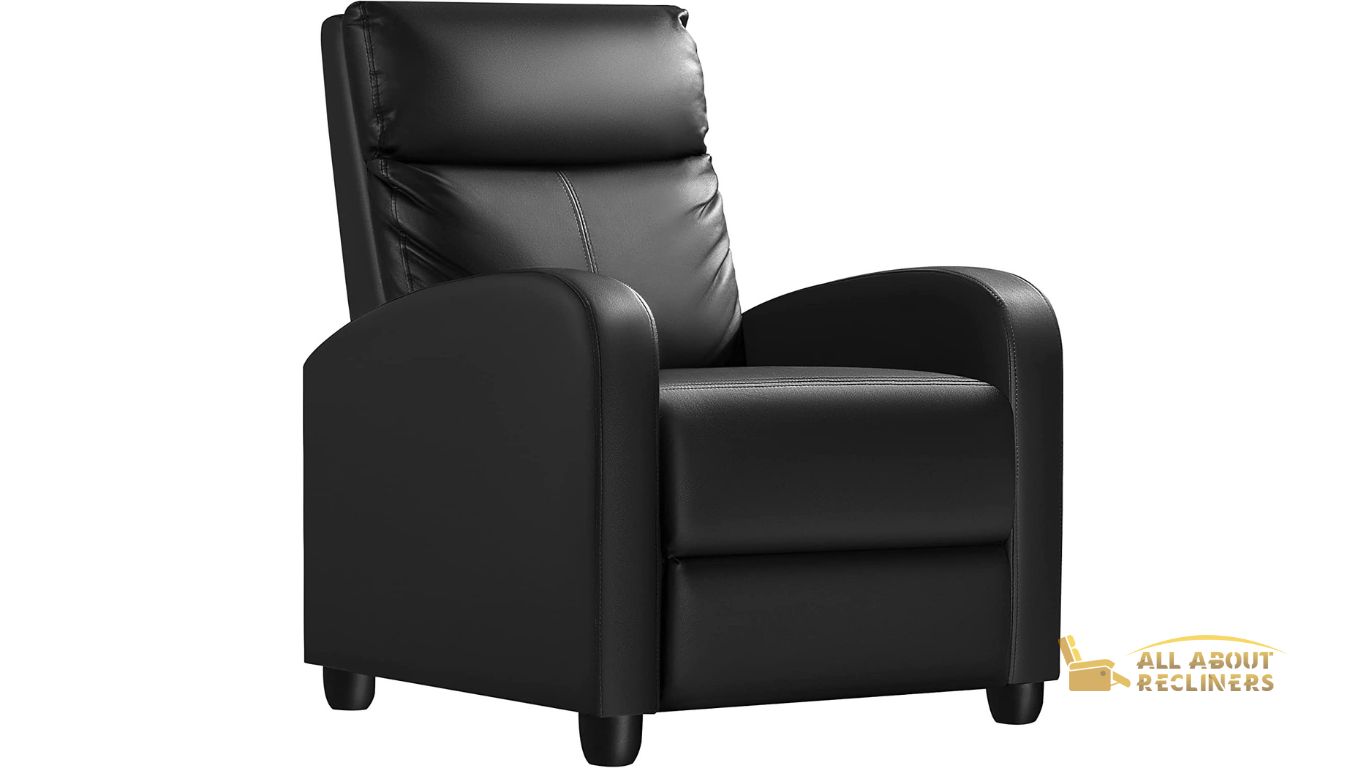 Product Review:
Want an incredibly beautiful recliner that fits small spaces perfectly? Homall is what you need to invest in. This is a basic recliner with all the recliner-like features. It's adequate in terms of reliability and comfort. The covering leather seems durable and long-lasting too with a smooth texture.
The seat is a little less wide than some other options of the same category. This recliner slightly tilts back in a fully upright position. The footrest is easy to put down and take out, unlike some other manual options.
Overall, the recliner it's great value for the money spent on it. One major downside is its less reclining angle which is only around 120°, unlike Mcombo recliners that recline up to 180°.
Product Features
| | |
| --- | --- |
| Weight capacity | 270 lbs. |
| Power Source | Manual |
| Size (Dimensions) | 22.1D x 22.1W x 17.7H in |
| Material | Faux Leather + Alloy steel |
Pros
Easy to push down and up
Best for small people
True space saver
Serve its purpose
Cons
Up-to 120° recline only p
Less durable steel frame
Expert Recommendations:
I found this suitable for those looking for a great space saver at an affordable price, Homall recliner chair will be the best bet for you.
Irene House 9188 Lay Flat Recliner
Irene House 9188 Lay Flat Sleeping Dual OKIN Motor Lift Chair Recliners for Elderly Infinite Position Recliner with Heat Massage Up to 300 LBS Electric Power Lift Recliner(Brown Faux Leather)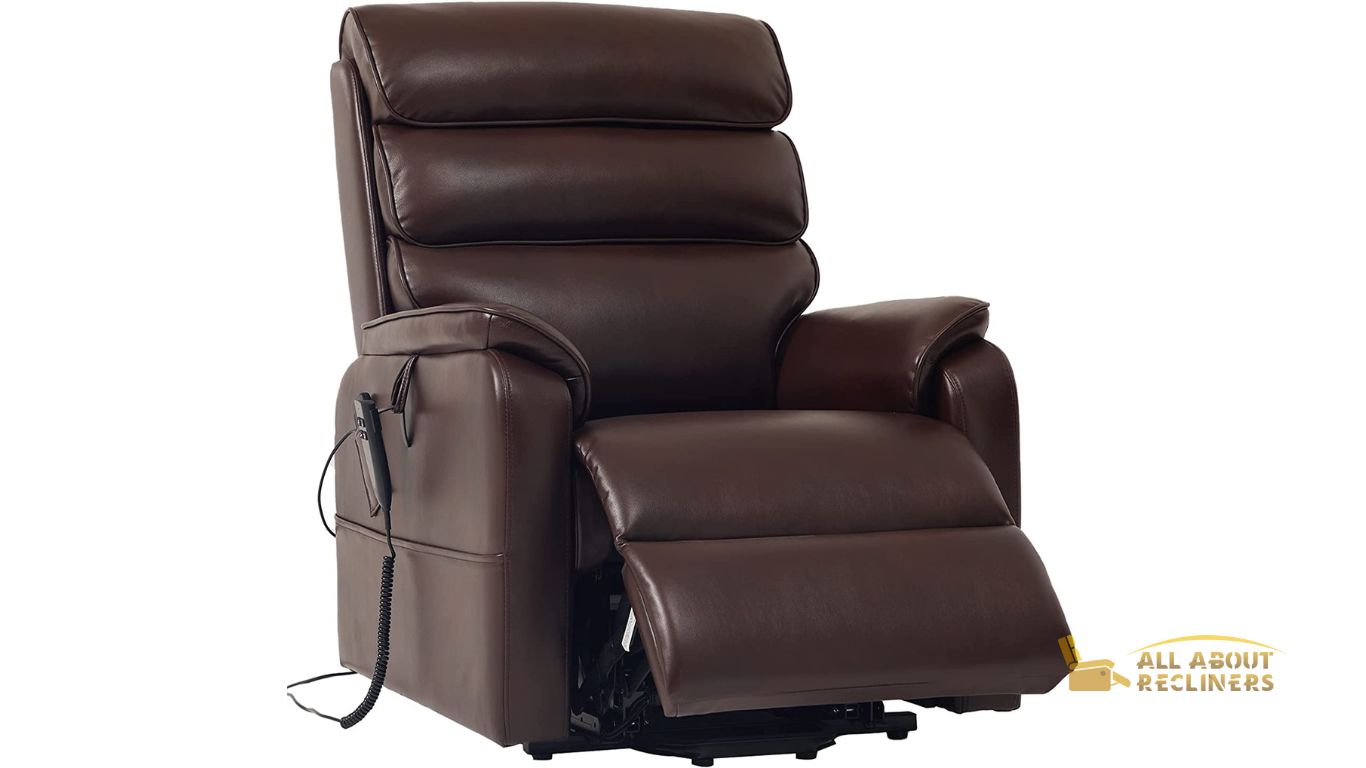 Product Review:
Want to buy a small recliner with infinite positions? Irene House has this model in small size specially designed for short people in the height brackets of 5′-5′ 8". They have many variants of modern electric recliners in large, medium, and extra-large sizes with slightly different features.
This particular one has been used by my close friend who has a skinny body structure. The recliner offers infinite positions with lay-flat reclining limits. Additionally, it offers heat and massage features for a complete resting period. There is no sagging in the outer faux leather which makes it a nice-looking chair for any room or living room. This is a bit heavy and thus would be difficult to assemble or move around due to the weight.
The most powerful highlight of this electric recliner is the support and dependability it provides to people with disabilities or compromised mobility.
Product Features
| | |
| --- | --- |
| Weight capacity | 300 lbs |
| Power Source | Electric |
| Size (Dimensions) | 38.5″D x 33″W x 42.5″H |
| Material | Breather Faux leather |
Pros
Massage and heat features
Infinite positions
180° degrees lay flat recline
Easy to operate with a remote 
Cons
No rocking or swivel feature
Expert Recommendations:
This is the most popular modern power lift recliner for short people with short legs. The recliner is affordable and well built that provides value for money.
A User Guide on Buying Best Recliner for People with Short Legs
Modern recliners are quite expensive and you need to be careful while investing your hard-earned money into buying one. Choosing the option that exactly meets your needs and requirements is crucial. So here I have given all the factors that are needed to be considered while making a purchase for a small recliner for a short person.
Comfort
There is no doubt that comfort is the most important factor when it comes to buying any type of furniture. You must ensure that the product you are buying will be comfortable enough for your pet to use without any problem. A good quality product will also make sure that your pet feels happy with their new purchase and they will enjoy using it day in and day out.
Price
You will find many different types of recliners which come at different prices. Make sure that you buy one that fits your budget and meets all your needs before purchasing it. Modern electric recliners from top furniture labels are generally more expensive than traditional manual recliners.
Weight Capacity
Generally, small recliners have less weight capacity, unlike large heavy-duty recliners. Most small recliners have a weight-bearing capacity of around 250-350 lbs or less.
Here you need to be mindful of the maximum weight capacity of your required recliner. It must be able to stand your weight in case you are an obese person more than 300 lbs.
Power Source
It's important to consider the power source of the recliner before buying. Some are manual that can operate with a liver applying physical effort. Others are battery operated that can be adjusted with buttons. Electric recliners usually come with a remote and can need the minimum effort to operate.
If someone suffers from arthritis or joint pain-related issues, then getting an upright chair would be ideal since they can still get up from their seat with ease, unlike recliners which require more effort on the part of the user.
Material
Material is one of the critical factors that can affect the whole buying decision. Some recliners are made of fabric, while others are leather recliners for short people. Now the market has evolved and there are chenille and linen fabrics in trend too. You need to consider the finish material as well as the frame material of your recliner too.
Seat Height and Width
The first thing that you need to look into is the height. If you are a person with short stature you need a recliner with lesser height so that it exactly fits your head and back. Width is also crucial to consider if the person has a wide back or hips and is obese. You certainly need a short recliner that is wider than other small recliners.
Additional Features
Some people want a recliner that offers swivel and sliding features along with a lay-flat reclining. While others prefer a recliner with heat and massage features. You need to list down all your preferred features and choose the final one accordingly. Here on my list of the 5 best recliners for small people, there are options that are rocking, gliding, and swivel recliners while some offer heat and massage features. You need to be careful about your preferences here.
By considering all the factors you can make a safe purchase without wasting any money on testing and reviewing.
Read More:
You can read more about Buy Best Recliners for 6 Feet or Tall People
FAQs
Should your feet hang off a recliner?
In a fully reclined position, your feet must not hang over the edge of the footrest of your recliner. In fact, only the heels of your feet fall off the footrest in a fully reclined position
Which recliner is the most comfortable small recliner?
JUMMICO Recliner Chair is the most comfortable recliner on this list of top 5 recliners for small people. It is a petite-size recliner that offers an optimal comfort and a nice feel. 
What is considered a petite size person?
Anyone taller than 5'4″ or less is considered a petite-sized person. So if you lie in this height bracket, you must choose a recliner that must be smaller than other standard-sized recliners. 
What is the average height of a small recliner?
The average height of a small recliner is around 38 inches. The average Depth and width of a petite recliner are 36 and 30 inches respectively. But there are no standard small, medium, or large size of recliners.
Conclusion:
While there is no one perfect fit for everyone in the furniture, especially recliners. Still, it is recommended to measure the size of a chair that is a good fit in terms of height, width, and depth. This way you can get an estimated size of your required recliner.
Choosing the best one entirely depends on you. To support you in making the right decision I have also shared my detailed buying guide with all the important factors. I anticipate that my recliner reviews and buying guide will help you in making the final purchase. For more on the topic, stay tuned with us as a lot more is coming.